BlockbusterTOKYO
9th Seminar program in Blockbuster TOKYO 2019
2020.02.06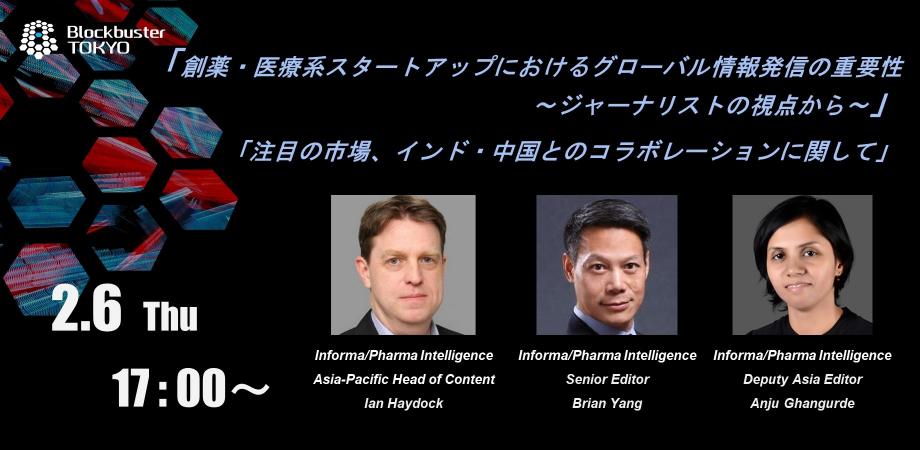 Beyond Next Ventures, Inc. operates Tokyo Metropolitan Government's "Blockbuster TOKYO" which is an acceleration program for pharmaceutical and medical startup.
In this seminar, Ian Haydock who is an Asia-Pacific Head of Content and has been covering the region for more than 20 years as a writer and editor in the pharma sector will be invided to speak about the importance of dispatching information for pharmaceutical and medical startups in Japan. Also in the second half, we will use video conference with the editors who are active in China and India to talk about how Japanese pharmaceutical / medical startups will expand into emerging countries, and how to collaborate with biopharmaceutical companies outside the United States and Japan.
This seminar is open for all those who are interested in pharmaceutical / medical startups.
We hope many people, such as who are interested in dispatching information to outside of Japan and collaboration with Chinese and Indian pharmaceutical companies, to participate in this seminar.
Program
16:30~17:00 Reception 17:05~17:10 Introduction to Blockbuster TOKYO 17:10~18:00 Path as a journalist and the importance of PR for startups (Informa/Pharma Intelligence Asia-Pacific Head of Content Ian Haydock) 18:10~19:00 How Japanese drug development startups can collaborate with the emerging market? (Informa/Pharma Intelligence Senior Editor Brian Yang and Deputy Asia Editor Anju Ghangurde) 19:00~20:00 Networking
Speakers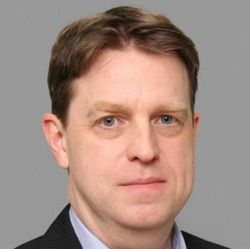 Informa/Pharma Intelligence Asia-Pacific Head of Content, Scrip/Pink Sheet, Pharma Intelligence
Ian Haydock

Ian oversees content for the Asia-Pacific area, including in the commercial and policy/regulation areas, with a particular interest in company and pricing topics. He has been covering the region for more than 20 years as a writer and editor in the pharma sector.
Ian first moved to Japan in the 1990s and has covered a broad range of pharma industry topics, both across this market and the rest of Asia, including corporate, R&D, pricing and policy developments. After a stint as a Tokyo-based Japan and Asia editor for Scrip, he became managing editor of PharmAsia News (now part of Scrip/Pink Sheet) in 2014, and is a recipient of multiple Informa internal awards. He has a long personal and professional background in Asia, having grown up in Hong Kong, and follows regional regulatory harmonization and trade initiatives with interest. Ian lives in Tokyo with his wife and two sons.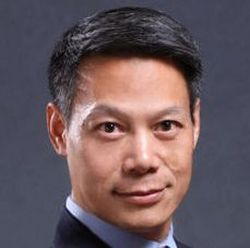 Informa/Pharma Intelligence Senior Editor, APAC, Pharma Insights
Brian Yang

Experienced China hand on healthcare and biopharma hot-button issues, drug reforms, pricing and market access, the biotech boom and IPOs. Brian's on-the-ground, deep-dive and trend-spotting analysis has won wide praise from those interested in this key market.
Brian is a Beijing-based senior editor in charge of overall China coverage within the APAC Pharma news team. A veteran journalist, he has written extensively on pharmaceutical R&D, regulatory affairs and market access. Brian has led a team of writers to provide industry-leading coverage on many key issues in the second-largest heatlhcare market.
He has worked as a foreign affairs correspondent and web editor for both TV and radio networks, and is trilingual in Chinese, English and Japanese. Outside work, Brian has run in dozens of marathons and one triathlon.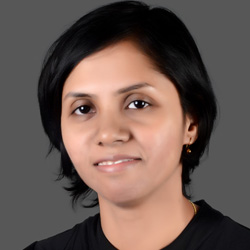 Informa/Pharma Intelligence Deputy Asia Editor
Anju Ghangurde

Anju is Deputy Asia Editor at Informa's Scrip & Pink Sheet. She has over two decades of experience in journalism including stints at India's leading financial dailies. Based in Mumbai, India, she covers a range of topics across the pharma and biosimilar landscape. Drug pricing, policy and regulatory affairs, M&A and patents are areas of special interest to her. She is also a recipient of the British Chevening Scholarship for Young Indian Journalists (2000-01) awarded by the Foreign & Commonwealth Office.
Anju has extensive experience at India's mainstream financial dailies, The Economic Times, The Hindu Business Line and The Financial Express. As Corporate Bureau Chief (Mumbai), she led a team of reporters at The Financial Express prior to joining Scrip. She's been associated with Scrip since 2001, when it was part of PJB Publications.